Introduction
Are you a race fan? If so, you probably already know that Daytona Beach, Florida is going to be the place for you. It is home to the Daytona International Speedway and beloved by race fans everywhere. But don't worry. If racing is not your thing, you can still enjoy the beaches, shopping, and other activities and attractions the area has to offer. Here are a few of our favorite things in Daytona, Florida:
Daytona International Speedway
Richard Petty Driving Experience
One Daytona
Daytona Beach Boardwalk
Tanger Outlets Daytona
Buc'ee's Daytona
Beach Street
Daytona Lagoon
Ponce Inlet Lighthouse
MOAS–Museum of Arts and Sciences
Mary Bethune Home
For great deals on even more great things to eat, see, and do in Daytona Beach and the surrounding areas, then be sure to check out Groupon HERE.
Be sure also to check out our BEST DEALS AND ATTRACTION TICKETS page for a full list of the best prices on all of the top Florida theme parks and attractions.
THE BEST BANG FOR YOUR BUCK! Check out this fantastic list of Florida attraction passes to get the most out of your Florida trips for the least amount of money!
And here's why:
Daytona International Speedway
Obviously, one of the best things to do in Daytona Beach is to visit the Daytona International Speedway. The speedway is a race track that hosts a variety of racing events including NASCAR, sports car and motorcycle races. If you're looking for something more than just watching the races, you can book a race simulator experience where you can feel what it's like to drive on real tracks at speeds up to 200 mph. You can also purchase tickets or gift cards for friends and family members who are interested in watching the races live or get some racing merchandise for yourself. Even if you aren't into NASCAR, it is still pretty awesome to see in person.
At Christmas time, the Speedway transforms into a winter wonderland. Enjoy listening to Christmas music and watching the magic of themed Christmas lights displays dance before your eyes.
Richard Petty Driving Experience
Just so everyone knows, we did not do this experience, but we wanted to add it to the list just in case anyone is interested. The Richard Petty Driving Experience allows you to ride in an actual race car through the Daytona Speedway. This would be the perfect bucket list item for someone who eats, drinks, and breathes racing/NASCAR. But save your pennies because the price starts at $499 per five minutes of driving.
One Daytona
One Daytona is a relatively new (built in 2017) complex located across from the speedway. It includes restaurants, hotels, and a variety of places to shop. It also hosts several events and festivals connected with the speedway. One of the main attractions is a dancing fountain containing water jets and lights which are synced to music. It's pretty fascinating to watch while you eat some ice cream from a nearby ice cream parlor.
During the day, your children will enjoy using it as a giant splash pad!
Daytona Beach Boardwalk and Pier
When you think of Daytona Beach, Florida, the first things that come to mind are most likely racing and the beach, but, make sure you don't miss out on the boardwalk and pier! The historic boardwalk is one of the best places in town for families and friends looking for something fun to do while on vacation.
Roller coasters and water slides can be found just steps away from food shops offering everything from pizza slices, to burgers, and our favorite: funnel cake! If none of those sound appealing, don't worry: there are plenty more options available nearby—including arcades where visitors can play classic video games like Pac Man while waiting their turn on other attractions nearby (which might include bumper cars).
Our favorite thing is to walk along the boardwalk and stop to enjoy some fair-style food at one of the eateries.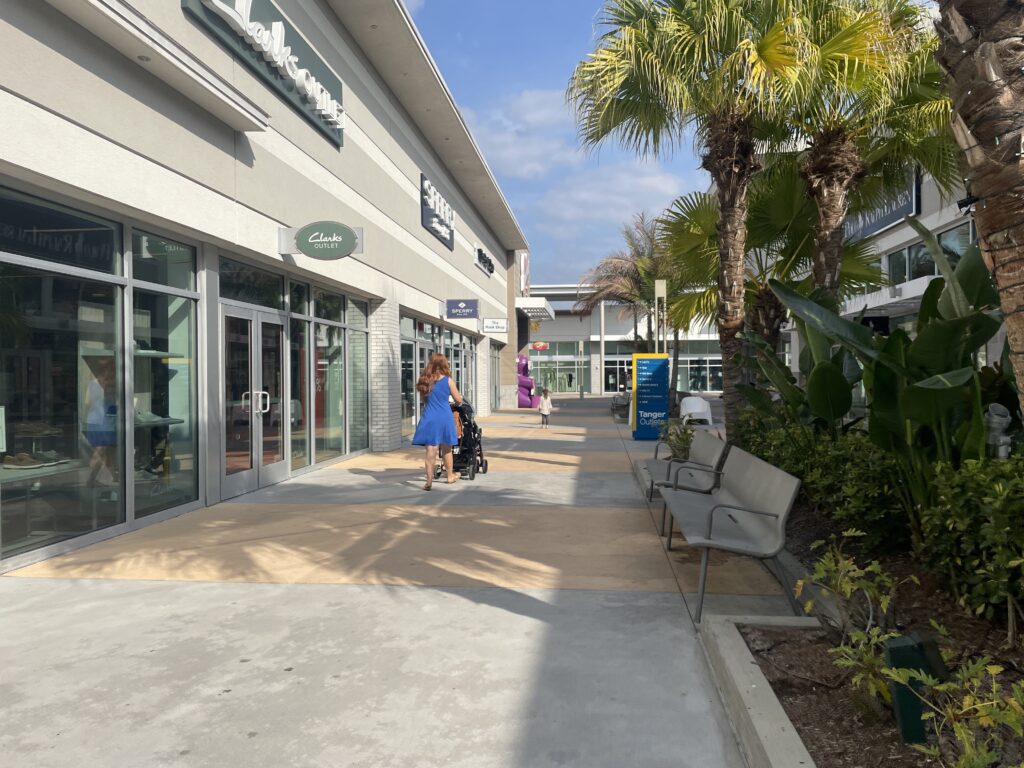 Tanger Outlets Daytona
Tanger Outlets is a popular shopping destination in Daytona Beach, and it's actually one of the nicest outlet malls in the entire state. The outlet mall has more than 150 stores and restaurants, including many well-known brands like Gap, Banana Republic, and Nike.
Buc'ee's Daytona
If you've ever been to a Buc'ee's, then you know why we could include a gas station on the list of things to do in a given town. This Buc'ee's happens to be conveniently located directly across the street from the Tanger Outlets. Last time we visited here, we spent a solid two hours wandering around, checking things out, and buying and tasting food.
Beach Street
Beach Street is a popular street in Daytona Beach's downtown area and, while it's not technically a beach, it has all of the charm and atmosphere you would expect from a Florida seaside street. The street is lined with different restaurants and shops to choose from, and it is a great place to take an even stroll and snap a few family photos.
Ponce Inlet Lighthouse
Did you know that the tallest lighthouse in Florida is located in Daytona? The Ponce Inlet Lighthouse is 175 feet tall and there are 203 stairs up to the observation deck. In the foot print of the lighthouse are the former homes of the lighthouse keepers which now contain numerous exhibits. The most interesting exhibit to us was the Lens Museum which showcases the various lens styles which have been used throughout the years in the light house and explains how the light is projected through the various glass angles. Surprisingly, the various lenses were just beautiful!
Daytona Lagoon
Daytona Lagoon is a family-friendly water park located on the Halifax River, near Daytona Beach. The park has many different water slides, fountains and cannons to keep you cool during your visit. The best part is that it is open year round!
Daytona Beach Ocean Walk
Located juxtaposition to the Daytona Beach Bandshell, the Daytona Beach Boardwalk, and Club Wyndham Oceanwalk (the resort which operates Ocean Walk), the Ocean Walk is home to various shops, stores, restaurants, and a movie theater. This is a fun place to come and have dinner with places like Bubba Gumps, Sloppy Joe's, Johnny Rocket's, and more! We usually head here for dinner just ahead of taking our traditional stroll down the boardwalk to the arcades and the pier.
MOAS – Museum of Arts and Sciences
MOAS is a museum with a wide range of exhibits that offer many opportunities to learn about science, history, art and culture. There are over 27,000 artifacts in the collection along with more than 300,000 square feet of exhibit space and over 500,000 square feet of total space. Each year MOAS welcomes over 2 million visitors to their campus.
Mary Bethune Home,
The Mary Bethune Home is a historic home located in Daytona. It is the first house ever built by an African American in what would later become the city of Daytona Beach and was designated a National Historic Landmark in 1974.
Conclusion
Daytona Beach is a great place to visit. Whether you're looking for relaxing beach days or exciting adventures, there are plenty of things to do in Daytona Beach. From racing and shopping to sightseeing and dining, there's something for everyone here!
For great deals on even more great things to eat, see, and do in Daytona Beach and the surrounding areas, then be sure to check out Groupon: https://www.dpbolvw.net/click-100656272-15230314?url=https%3A%2F%2Fwww.groupon.com%2Flocal%2Fthings-to-do
BEST BANG FOR YOUR BUCK! To make the most out of your next Florida vacation as a family, check out these passes from Groupon which allow you to have the most amount of fun for the least amount of money!
Be sure also to check out our BEST DEALS AND ATTRACTION TICKETS page for a full list of the best prices on all of the top Florida theme parks and attractions.